Healing art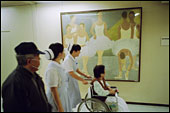 Paintings in hospitals
This gallery contains images of paintings hanging in Kitasato hospitals and facilities - an initiative of Professor Ōmura. The artwork helps create an environment that is conducive to healing and relaxed working conditions.
View the art gallery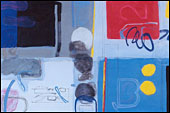 Sample collection of paintings
This gallery contains a small sample of the paintings in the Kitasato collection and the private catalogue of Satoshi Ōmura, who is a major patron of the arts in Japan and a staunch supporter of Japanese artists.
View the art gallery
"This century has pushed compassion, humility, mystery, and joy out of our health care system in favor of corporate medical business where the bottom line is profit, not care. For thirty years now, the arts have tried to bring these back into the health care system—but through the back door. Deep down, everyone knows the value to their health of music, art, poetry, clowning, and dance. But our society just hasn't made the crucial link and decided to put these treasures into every health care setting on their own merit. Each art form has been separately developed as a "therapy" practiced by a very few specialists, with narrowly defined guidelines, because this is the language the administrators of health care speak and understand.
"I find it enormously limiting to regard creative self‑expression as a prescribed therapy that a few specialists can bill for. I hope that those who consider using art in any of its many magical forms in their healing work will open themselves to the infinite number of ways in which it can be done. Invite artists to pass through the front doors of every health care facility to do their work of healing.
"Because creativity is great medicine for all, both the creator and the one who experiences it. It prevents disease and promotes wellness. It is not an indulgence, it is fundamental to medical practice. There is no universe more boundless than that of the imagination. It gives us our wonder at the world around us, our curiosity and improvisational skills, our sense of play, and our sharing of ideas. The artist is peer to the doctor. Art uplifts, educates, brings beauty, and facilitates social change. Bringing imagination to our every endeavor makes us happier and healthier. But imagination becomes flabby if not exercised. I urge you not to neglect it."
Patch Adams, M.D.